Coming Soon! Food as Medicine – Understanding the Magic of TCM Nutrition and How to Customize Foods for Your Body Type.
In Traditional Chinese Medicine we go beyond looking at food as simply fat, calories and basic vitamins and minerals. As important as all those are, true healing happens when we're able to customize our diet based on our unique patterns or body types. No two people are the same – our lifestyle, genetics, stressors and metabolisms are unique, so eating without taking this into account isn't helpful (and can even be harmful for some). By tuning into the unique messages your body is sending out, you're better able to eat according to your unique pattern and body needs. 
In this course you will learn to understand the principles of Chinese Medicine and how they apply to the foods we eat. You'll get specific recommendations for your body type an very easy to follow recommendations to help take your health to new level. 
Food is medicine and medicine can taste great! Sign up to get more information.

Beyond Self-Care: Recognizing and Metabolizing Oppression in the Body.
Prapti and Aisha are offering a six part, small group (5-7 people) experiential workshop. Includes one 60 minute individual session
This workshop is designed for frontline workers and activists who are want to learn how to be more grounded in the work that they do and in the spaces that they work in. Learn how to recognize how your body holds stress and responds to institutional oppression. Learn how to nurture your resilience in order to process what you carry.
Dates: Sundays from 1pm-3:30pm, for five weeks
January 14th, 2018 to February 18th, 2018
Location: 489 College St., Third Floor
Fee: $350
For more information and to register: http://somatictherapytoronto.ca/six-part-series.php

Seasonal Farm Retreat & City Dinners
Join Angela Warburton, R.TCMP and Chef Joshna Maharaj for seasonal farm retreats and city dinners guaranteed to nourish your body and soul.
Country: Together, we will tap into the natural rhythms of nature, connecting to the land, local seasonal fare and exploring the natural shifts in energy and emotions that comes with each season. Though cooking, sharing and exploring we will tap back into the joy that comes with living with the seasons. Cooking demo's, meditation, communal dinners, healing wisdom, self exploration and plenty of time to enjoy the calm beauty of the land. Winter, Spring, Summer and Fall.
City: Farmer's markets, city walks and dinners bring nature's widsom and rhythms back to our daily urban lives.
Sign up to get more information on our 2018 series


Modern Woman E-Course
What does it mean being a woman today in this modern world? Women are opening businesses, raising families, building careers, care giving and so so busy, yet feeling so disconnected from their centre. Craving stillness, inner connection and just time to BE. Hormonal shifts, sleep issues, weight changes and living in a constant state of being rushed with too much to do and not enough time is so common today. We've lost touch with the feminine. Our culture tells us being productive and achieving is where our worth is. Yet, there is something else, Something deeper that calls. Something that is needed to bring us home and make us whole. Chinese Medicine has known this for thousands of year. It's is essential to being balanced and healthy. It's called Yin. Yin Yang balance is what makes the world balanced. Day followed by night. Activity followed by rest. Doing followed by non-doing. Breathing in…and then breathing out. Everything, absolutely everything needs that balance to thrive and survive. As women, we are more naturally yin: the connection, the stillness, the call to the inner world where we can catch our breath and just sit for a moment to Be. It's not just a nice thing to do, it's essential.
In this course, you'll learn how simple daily rituals can help connect you to your centre, calm your nervous system and help bring balance back to your being. Learn specific foods that act like medicine,  quelling hot flashes, easing period pain, rebalancing hormones and support adrenal function. Learn simple herbs you can incorporate into daily life that can help support your body at every age.
Tap into the deep inner wisdom of feminine consciousness and bring this back to the modern world. A balanced, connected, modern woman.

Wise Woman Aging E-Course
How to navigate aging with ease, grace,  empowerment…and joy! Learn top foods and herbs for navigating hormonal shifts and mood according to TCM. Learn why Chinese Medicine refers to menopause as The Second Spring (and it's a good thing!). Learn the foundation of feminine consciousness and how changing subtle elements of how we live can have a huge impact or our mental, emotional and physical well-being.


Women's Clinic
Monday's 10am-1pm. Call to book an appointment.
Run by women, for women. A community style, sliding scale women's clinic featuring Traditional Chinese Medicine and Acupuncture, Naturopath Medicine and Western Herbal Medicine. With Angela Warburton TCM, Michelle Richea ND and Alexis Coffey Herbalist. Monday's 10-1. By appointment.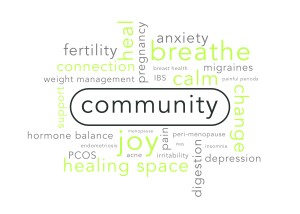 Community Clinics
The "community" aspect is a nation-wide movement to help make healing more affordable and accessible. Treatments are done in a group setting and fees are based on a sliding scale of what the individual can afford. We've added many additional modalities as we feel accessible healthcare of all kinds are essential to the well-being of our community. Treatments can include: Acupuncture, Western and Eastern Herbal Medicine, Registered Massage Therapy, Naturopathy, Cupping and Tuina massage.
Treatments in a group can be a powerful social experience. There's no talking or sharing between patients, but it reminds us that we are not alone and that we are part of a community – which is a huge part of healing.