Community Clinics
The "community" aspect is a nation-wide movement to help make healing more affordable and accessible. Treatments are done in a group setting and fees are based on a sliding scale of what the individual can afford. We've added many additional modalities as we feel accessible healthcare of all kinds are essential to the well-being of our community. Treatments can include: Acupuncture, Western and Eastern Herbal Medicine, Registered Massage Therapy, Naturopathy, Cupping and Tuina massage.
Treatments in a group can be a powerful social experience. There's no talking or sharing between patients, but it reminds us that we are not alone and that we are part of a community – which is a huge part of healing.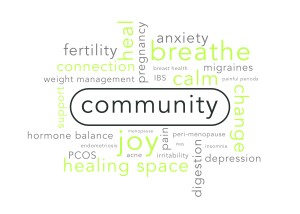 Integrated Cancer Care
Learn about the foundations of Integrative cancer care, specific beneficial foods, the Traditional Chinese Medicine approach to cancer treatments both in active treatments and also during remission also herbs and other statistically proven highly beneficial lifestyle strategies to aid in healing and recovery. Angela has over 10 years of clinical experience in treating cancer from this integrated approach.
Location: the Institute of Traditional Medicine
Please contact us for scheduled dates.

Farm Retreat
Call for details 416-324-8888
Join Angela Warburton, R.TCMP and Chef Joshna Maharaj for seasonal farm retreats guaranteed to nourish the body and soul. Together, you will tap into the natural rhythms of the land though cooking, sharing and exploring. Cooking demo's, meditation, communal dinners, healing wisdom, and plenty of time to enjoy the calm beauty of the land.
Location: The New Farm in Creemore.
Includes all meals, take home preserves, on or off site accommodation possible.

Women's Clinic
Monday's 10am-1pm. Call to book an appointment.
Run by women, for women. A community style, sliding scale women's clinic featuring Traditional Chinese Medicine and Acupuncture, Naturopath Medicine and Western Herbal Medicine. With Angela Warburton TCM, Michelle Richea ND and Alexis Coffey Herbalist. Monday's 10-1. By appointment.